Bank Danamon and Railink Promote Public Transportation Usage and National Cashless Transaction Movement
date_range 26 March 2018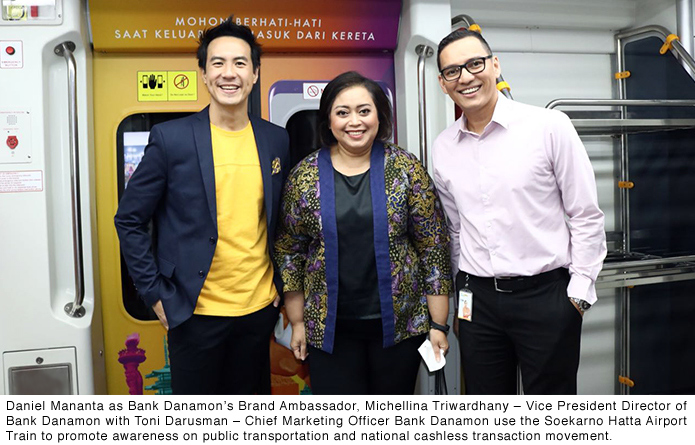 Jakarta, 26 March 2018. PT Bank Danamon Indonesia Tbk (Bank Danamon) announces its partnership with PT Railink, a subsidiary of PT Kereta Api Indonesia (Persero) and PT Angkasa Pura II (Persero), which manage the Airport Railway Transport. Through this partnership, the railway ticket purchase can be done anytime and anywhere through Bank Danamon's digital banking service, which are D-Mobile mobile banking application and Danamon Online Banking.
"Bank Danamon's partnership with Railink is our answer to the needs of customers and the public for rapid and convenient transportation to the airport. Railink provides safe and convenient transportation to the public, and Bank Danamon complements this by providing fast and easy payment solution. This synergy leverages on banking services to promote usage of public transportation with cashless transactions," said Michellina Triwardhany, Vice President Director, Bank Danamon.
According to the Jakarta Provincial Transportation Office, Jakarta's public transportation usage rate is around 12%-15% of Jakarta's residents. Meanwhile, according to Bank Indonesia data, the usage rate for cashless payment methods is still relatively low, where credit card usage is at 2% and debit card at 8%.
The Soekarno-Hatta Airport Train transports passengers to and from the airport with stops at BNI City station in Sudirman, Central Jakarta, and Batu Ceper station in Tangerang. The train's travel time is at 55 minutes, which will be shortened to 40 minutes with an extended line going all the way to Bekasi.
PT Railink, as the airport transportation service provider since 2013, is also currently preparing the Airport Railway Ticketing System (ARTS) to support the railway system operations through the implementation of cashless payment methods and internet booking (ibook) as well as mobile aplications. Ticket vending machines are also installed in the train stations. PT Railink and Bank Danamon, along with other national banks, collaborate to enable ticket payment through credit card, debit card, prepaid card, e-commerce, and other online payment methods.
With this partnership, Airport Train ticket purchase can be done through Bank Danamon's mobile banking application, D-Mobile, and Danamon Online Banking. In addition to partnership in payment methods, Bank Danamon also use the public space and facilities in the Airport Train and stations to promote public awareness on banking products and services.
"Public transportation provides an opportunity to raise awareness on banking services. Our hope is that this awareness will bring positive impact to the Indonesian transportation and banking industries," added Michellina.