Alliance Bank Clinches 7 Top Accolades
date_range 14 January 2020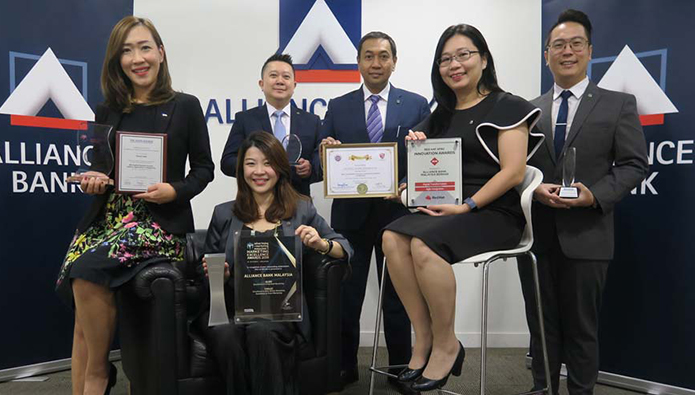 Global recognition for the Bank's efforts to help improve the lives of its stakeholders.
Kuala Lumpur, 14 January 2020 – Alliance Bank Malaysia Berhad ("Alliance Bank") ended 2019 on a high note with a total of seven prestigious awards received throughout the year for its innovative products and solutions that are aligned to customers' needs.
One such recognition was the Red Hat Innovation APAC Awards 2019 Digital Transformation award which was accorded to the Bank for its Branch-in-Tablet innovation which pushed the envelope on optimising customer journeys digitally. With the Branch-in-Tablet solution, customers can open a bank account, activate their banking services including debit card and online banking, as well as access mobile banking services, in as little as 15 minutes. Similarly, this digital innovation is applied to the Bank's enterprise solution, as it enables business owners to open a business banking account within one-day and one-visit, with minimal documentation.
Alliance Cash2Home, which enables mass on-premise account opening and activation of debit cards in as little as 20 minutes, continues to impress with its groundbreaking approach of using facial recognition biometrics and optical character recognition (OCR) technology. Business owners can arrange for account opening for their employees at their premises. The Alliance Cash2Home increased its collection of three previous awards to five, when it was named "Best Digital Banking Initiative" and commended as "Best App for Customer Experience" at the Retail Banker International Asia Trailblazer Awards 2019.
The Bank's focus to offer innovative banking that is fast and simple for SMEs is also recognised by The Asian Banker and Asian Banking and Finance, awarding the Bank with the "Digital Financial Inclusion Initiative - Malaysia" and the "Financial Inclusion Initiative of the Year" awards respectively. These industry accolades attest to the Bank's encompassing value propositions that are aligned to the needs of business owners.
The Alliance-EcoWorld BizSmart® Challenge, an entrepreneurial programme which helps young businesses grow, was celebrated by advertising+marketing magazine with the Silver award of "Excellence in Integrated Marketing". The BizSmart® Challenge provides business training, coaching, mentoring, networking, brand exposure, and financing opportunities for business owners. Now in its sixth season, BizSmart® Challenge offers a bigger prize quantum of RM1.5 million and has incorporated an exciting new element of Instagram (IG) Story business pitch. IG Story business pitch is a new, innovative and digital method to invite participants to submit their entries, by making their pitch creative and unique, to qualify as finalists.
Rounding up these accolades is Alliance Islamic Bank's win of the Social Entrepreneurship award by the Islamic Retail Banking Awards for our Eco-Biz Dream Project and SocioBiz initiatives. Eco-Biz Dream Project is the banking group's commitment to nurturing young social entrepreneurs to help create a positive and meaningful impact on the economy, environment, and community. Alliance Islamic Bank had committed up to RM200,000 for the implementation of the winning idea as a viable business solution. In addition to the prize, the winners also receive guidance and advisory from industry experts.
SocioBiz is Alliance Islamic Bank's first social crowdfunding platform that helps the financially disadvantaged start or expand a business, or learn a new skill, to earn a sustainable livelihood. Launched in May 2019, 100% of the funds sourced is channeled directly to the recipients as Alliance Islamic Bank bears all the administration fees. SocioBiz has successfully rolled out 12 campaigns and raised over RM85,000.
For further information on Alliance Bank and its products and services, please visit www.alliancebank.com.my.
# # #
Alliance Bank's Ms. Stephanie Mak, Head of SME Product Development (seated left), Ms. Annee Koh, Head of Group Marketing & Communications, Ms. Choong Lee Chen, Head of Lifestyle Banking (seated right), Mr. Chris Chan, Head of Acquisition, Alliance@Work (standing left), En. Gafino Arshad, Head of Islamic Operations, Alliance Islamic Bank, and Mr. Aaron Kee, Head of Digital Banking (standing right) with the awards won by the banking group.
About Alliance Bank Malaysia Berhad
Alliance Bank Malaysia Berhad and its subsidiaries, Alliance Investment Bank Berhad and Alliance Islamic Bank Berhad, is a dynamic, integrated financial services group offering banking and financial solutions through its consumer banking, SME banking, corporate and commercial banking, Islamic banking, investment banking and stockbroking businesses. The Bank provides easy access to its broad base of customers throughout the country via multi-pronged delivery channels which include retail branches, Privilege Banking Centres, Business Centres, and Investment Bank branches located nationwide, as well as mobile and Internet banking.
For more information on this press release, please contact Agnes Ong at 03-2604 3378, or e-mail at [email protected]