Alliance Bank Wins 6 Industry Awards
date_range 30 April 2018
Local bank receives international and regional recognition from Asia's leading awards facilitators.
Kuala Lumpur, 30 April 2018 – Alliance Bank Malaysia Berhad ("Alliance Bank") received multiple recognition and awards for its innovative products and solutions from prestigious industry awards organised by Retail Banker International (RBI), International Data Centre (IDC), and The Asian Banker.
Alliance Bank's first-in-market mobile foreign remittance service, Alliance Cash2Home, was Highly Commended for its "Excellence in Mobile Banking-Customisation" and "Best Multi-Channel Offering" at the RBI Trailblazer Awards 2018 last month. Alliance Cash2Home was also recognised as Malaysia's "Digital Transformation Leader - Omni-Experience Innovation" at the IDC Digital Transformation (DX) Awards 2017 in October 2017.
The Alliance Cash2Home offers value-added propositions to both Business Owners and their foreign employees by bridging the gap in the banking needs of the underserved foreign workers and eliminating their employers' security risks. It utilises groundbreaking facial recognition biometrics and optical character recognition (OCR) technology for a paperless account opening process, and seamless remittance services via the mobile phone.
Meanwhile, the Bank's award-winning enterprise banking platform, Alliance BizSmart Solution, continues to receive accolades from regional and international audiences. Two weeks ago, Alliance BizSmart Solution was recognised as "Best Digital Sales Initiative, Application or Programme" at the prestigious Asian Banker's International Excellence in Retail Financial Services Awards 2018.
Earlier last month, the Bank won two regional awards, "Excellence in Service Innovation" and "Excellence in Business Model Innovation" for Alliance BizSmart Solution at the RBI Asia Trailblazer Awards 2018 held in Singapore.
Offered to business owners, the Alliance BizSmart Solution is a cash management tool for enterprise customers who value a service-led and highly customisable platform. Designed by customers for customers, the solution addresses real life challenges faced by businesses of all sizes in various sectors and industries.
Mr Joel Kornreich, Group Chief Executive Officer of Alliance Bank said, "We are pleased that Alliance Cash2Home has received multiple awards since its launch less than a year ago. The innovative mobile app uses facial recognition biometrics with optical character recognition to simplify the account opening and money remittance processes for the underserved foreign workers community. Our Alliance BizSmart is a best-in-class business banking solution offered to all our SMEs customers. We continuously upgrade our BizSmart platform to ensure that it remains at the cutting-edge of the market."
In the past one year, Alliance Bank has developed innovative fast, simple and responsive solutions that are aligned to customers' needs as part of its Transformation agenda. These include Alliance One Account, Alliance Cash2Home, Alliance One Invest, and Alliance SavePlus Account.
For more information on Alliance Bank and its products and services, please visit www.alliancebank.com.my.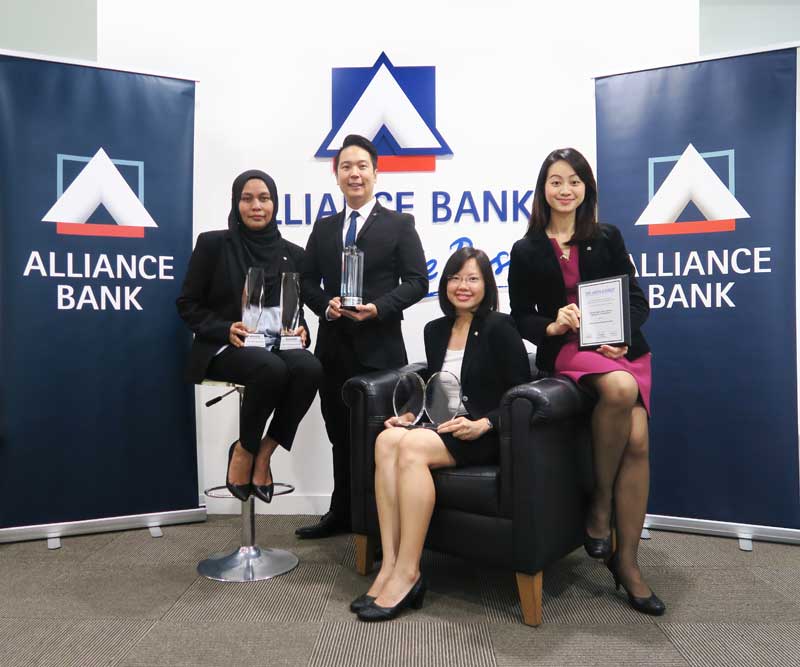 (From left to right): Azlina Yunus, Head, Transaction Banking - Product & Channel Management, Group Corporate, Commercial and Transactions; Aaron Kee, Assistant Vice President, Digital Banking, Group Transformation Office; Sally Chow, Head, Digital Banking, Group Transformation Office; Eunice Ong, Vice President, Business Deposits, Transaction Banking - Product & Channel Management, Group Corporate, Commercial and Transactions showcasing the regional and international awards presented to Alliance Bank.
About Alliance Bank Malaysia Berhad
Alliance Bank Malaysia Berhad and its subsidiaries, Alliance Investment Bank Berhad and Alliance Islamic Bank Berhad, is a dynamic, integrated financial services group offering banking and financial solutions through its consumer banking, SME banking, corporate and commercial banking, Islamic banking, investment banking and stockbroking businesses. The Group provides easy access to its broad base of customers throughout the country via multi-pronged delivery channels which include retail branches, Privilege Banking Centres, Business Centres, and Investment Bank branches located nationwide, as well as mobile and Internet banking.
For more information on this press release, please contact Agnes Ong, Tel: (03) 2604 3378/012-672 4245, or e-mail at [email protected].