Bank Danamon Announces 7% NPAT Growth In Its Full Year 2018 Results
date_range 20 February 2019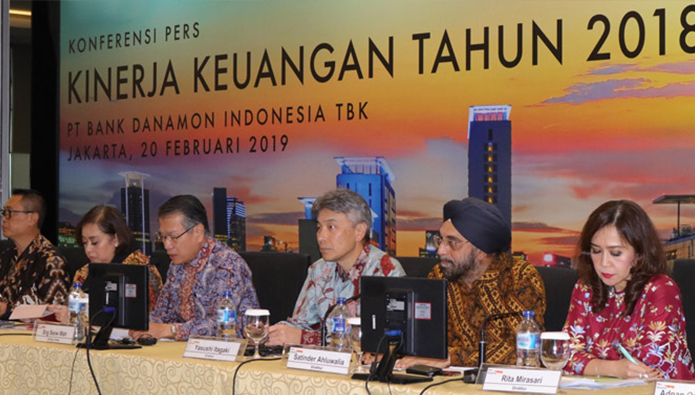 Jakarta, 20 February 2019. PT Bank Danamon Indonesia Tbk ("Bank Danamon" or the "Bank") today announced its full year 2018 financial results.
The Bank booked net profit after taxes (NPAT) of IDR 3.9 trillion in 2018, a 7% growth as compared to a year earlier. The profit growth was driven by double digit loan growth in key segments, which includes Small Medium Enterprises (SME), Consumer Mortgage, Enterprise Banking as well as automotive financing through Adira Finance. The Bank also recorded improvement in asset quality as shown by a 30bps decline in cost of credit ratio to 2.5%.
"Last year was an eventful year for Bank Danamon, which was marked by the investment in Bank Danamon by one of the world's largest financial institutions, MUFG. Bank Danamon stands to benefit from being part of a global bank, and it is also a reflection of MUFG's confidence and optimism towards Indonesia's potential for growth. Bank Danamon continues to maintain profit growth from our long term transformation initiatives to diversify revenue streams and improve customer experience, leveraging the latest digital technology to make it easier for customer to do business with us," said Sng Seow Wah, President Director of Danamon.
Double Digit Loan Growth in Key Segments
SME Banking loan portfolio increased 10% to IDR 31.2 trillion. Enterprise Banking loan portfolio, consisting of Corporate, Commercial Banking, and Financial Institutions, grew 11% to IDR 41.5 trillion. Meanwhile, Consumer Mortgage loans grew 29% to IDR 7.8 trillion.
In terms of automotive financing, Adira Finance recorded a 13% growth to end the year at IDR51.3 trillion. This healthy growth was driven by Adira Finance's new financings, which grew by 15% for the two-wheelers segment and 23% for the four-wheelers segment.
Excluding Micro financing, overall loan portfolio and Trade Finance grew 12% to IDR 137.2 trillion as compared to the previous year.
Healthy Liquidity and Capital
With a Macroprudential Intermediation Ratio (RIM) of 97.2%, liquidity was well managed. At the same time, Current and Savings Accounts (CASA) balances increased steadily to Rp52.1 trillion. CASA ratio stood at 47.1%. Bank Danamon's capital adequacy ratio (CAR) remained strong and is in a good position to support future growth. Consolidated CAR improved to 22.2% at the end of 2018 as compared to 22.0% a year ago.
Growth in Bancassurance and General Insurance Fee Income
Non-credit related fee income grew 13% to IDR 1.3 trillion. The improvement was mainly due to Adira Insurance's net underwriting profit, which grew by 24% to IDR 615 billion. Bancassurance fee also grew by 12% to IDR 384 billion.
Healthy Asset Quality
Bank Danamon continued to maintain its asset quality through prudent enforcement of risk assessment procedures, disciplined collection and recovery of debts. Special Mention ratio has improved to 9.8% as compared to 11.0% a year ago, while NPL ratio was stable at 2.7% as compared to 2.8% a year ago. Cost of credit ratio improved to 2.5% from 2.8% in 2017.