Bank Danamon Announces First Half 2018 Results
date_range 25 July 2018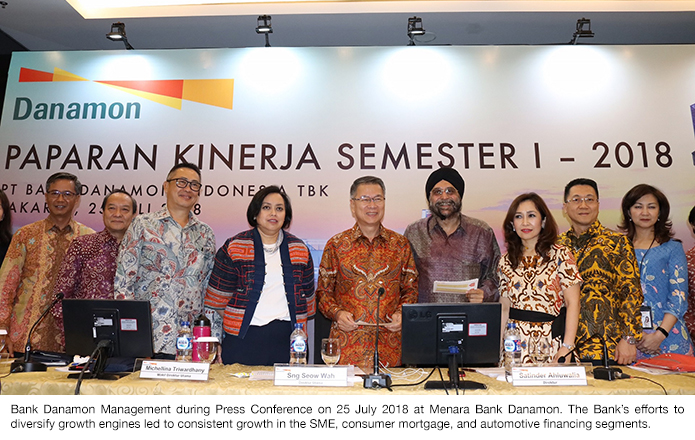 Jakarta, 25 July 2018. PT Bank Danamon Indonesia Tbk ("Bank Danamon" or the "Bank") today announced its first half 2018 financial results.
The Bank's long term strategic initiatives continue to show results. The Bank's efforts to diversify growth engines led to consistent growth in the SME, consumer mortgage, and automotive financing segments. The Bank's funding structure also improved as evidenced by the growth in Current Account and Savings Accounts (CASA) balances.
"Our first half 2018 results were complemented with improvement in service quality, as Bank Danamon was ranked second overall in the recent Banking Service Excellence Award 2018, in addition to achieving first rank in several key service categories," said Satinder Ahluwalia, Chief Financial Officer and Director Bank Danamon.
The Bank's net profit after taxes (NPAT) in the first half of 2018 was stable as compared to previous year at IDR 2 trillion.
Lending Growth in Key Segments
In the first half of 2018, Bank Danamon's loan portfolios continued to diversify towards non-mass market segment. The Bank recorded a total loan portfolio and Trade Finance growth of 4% at IDR 133.9 trillion in the first half of 2018, as compared to IDR 128.3 trillion in the same period in 2017.
SME Banking portfolio increased 14% to IDR 30.4 trillion, while Consumer Mortgage loans grew 40% to IDR 6.9 trillion. In terms of automotive financing, Adira Finance's total financing stood at IDR 48.1 trillion or up 8% compared to a year ago. Adira Finance's new financings grew by 14% year-on-year for the two-wheelers segment and 26% for the four-wheelers segment. This is in contrast to a 5% decline in new two-wheelers financing and a 3% growth for new four-wheelers financing in the first half of 2017.
Excluding Micro financing, overall loan portfolio and Trade Finance grew 8% to IDR 129.4 trillion as compared to the same period last year.
Growing CASA
CASA balances increased by 9% to IDR 50.9 trillion, and CASA ratio improved to 48.2% from 44.3% a year ago due to improvement in granular savings account balances. Time Deposits decreased by 7% to IDR 54.5 trillion as Bank Danamon let go of higher priced third-party funds. Improvement in Danamon funding structure led to lower cost of funds, setting up a foundation for long term growth. Loan to Funding Ratio (LFR) was well managed at 94.1%.
Bank Danamon's capital adequacy ratio (CAR) remained one of the best among peer banks. Consolidated and Bank-only CAR stood at 21.7% and 22.5%, respectively.
Growth in Bancassurance and General Insurance Fee Income
Non-credit related fee income grew 8% to IDR 609 billion. The improvement was mainly due to Adira Insurance's net underwriting profit, which grew by 19% to IDR 299 billion. Bancassurance fee also grew by 4% to IDR 166 billion.
Steady Asset Quality in Key Sectors
Bank Danamon continued to maintain its asset quality through prudent enforcement of risk assessment procedures, disciplined collection and recovery of debts. Special mention loans improved 240 bps to 11.8% as compared to 14.2% last year. NPL ratio stood at 3.3% in the first half of 2018. Cost of credit ratio was stable at 2.6% while restructured loans continued to decline.