Bank Danamon Announces First Quarter 2018 Results
date_range 20 April 2018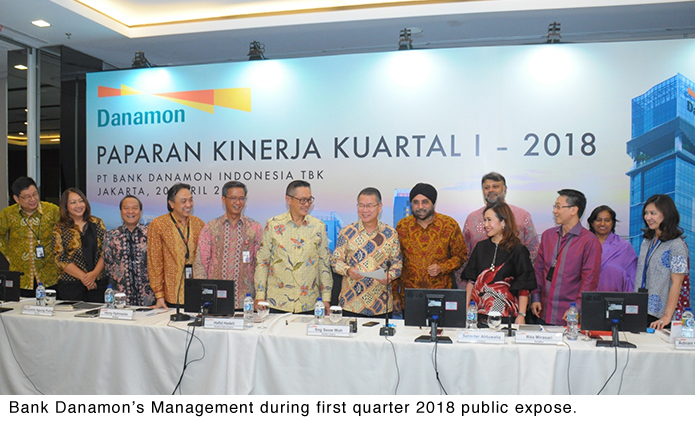 Jakarta, 20 April 2018. PT Bank Danamon Indonesia Tbk ("Bank Danamon" or the "Bank") today announced its first quarter 2018 financial results.
The Bank's net profit after taxes (NPAT) in the first quarter 2018 was stable as compared to previous year at IDR 1 trillion. On a quarterly basis, profits grew 61% from IDR 648 billion in the fourth quarter of 2017. Cost of Credit continued its downward trend, as it decreased by 4% to IDR 798 billion compared to a year ago. Bank Danamon also continued its disciplined management of operational expenses with cost to income ratio at 48%.
"The beginning of the year saw us build a foundation for sustainable growth for the remainder of the year and beyond. Bank Danamon is ramping up its digital services and has formed strategic partnerships with prominent institutions to improve customer experience. In the last three months, we have launched our digital wallet service (D-Wallet) with DOKU, Corporate Credit Card in partnership with Shell, cashless payment solution with Railink, as well as financial supply chain agreements with several multinational companies. In terms of performance, the first quarter of the year has already shown some promising signs, as lending continues to gain traction in several business segments, particularly in the Consumer Mortgages, SME, and automotive financing segments," said Satinder Ahluwalia, Chief Financial Officer and Director, Bank Danamon.
Lending Growth in Key Segments
The loan growth in the first quarter of 2018 started to show positive trend, as Bank Danamon loan portfolios continued to diversify towards non-mass market segment. The Bank recorded a total loan portfolio and Trade Finance growth of 3% at IDR 130.2 trillion in the first quarter 2018, as compared to IDR 126.4 trillion in the same period in 2017.
SME Banking portfolio increased 12% to IDR 29.3 trillion, while Consumer Mortgage loans grew 40% to IDR 6.6 trillion. In terms of automotive financing, Adira Finance's total financing stood at IDR 46.0 trillion or up 5% compared to a year ago. Adira Finance's new financings grew by 17% year-on-year for the two-wheelers segment and 30% for the four-wheelers segment on the back of a recovering automotive industry.
Excluding Micro financing, overall loan portfolio and Trade Finance grew 6% to IDR 124.5 trillion as compared to the same period last year.
Growing CASA
Current Accounts and Savings Accounts (CASA) increased by 11% to IDR 50.0 trillion, and CASA ratio improved to 48.3% from 44.8% a year ago due to improvement in granular savings account. Time Deposits decreased by 4% to IDR 53.7 trillion as Bank Danamon let go of higher priced third-party funds. The improvement in Danamon funding structure led to lower cost of funds, setting up a foundation for long term growth. As such, Loan to Funding Ratio (LFR) was well managed at 93.5%.
Bank Danamon's capital adequacy ratio (CAR) remained one of the best among peer banks. Consolidated and Bank-only CAR stood at 21.6% and 22.5%, respectively.
Improvement in asset quality
Bank Danamon continued to improve its asset quality through prudent enforcement of risk assessment procedures, disciplined collection and recovery of debts. NPL ratio stood at 3.1% versus 3.2% in the first quarter of last year. Cost of credit also decreased by 4% to IDR 798 billion. Cost of credit ratio stood at 2.5%, an improvement compared to 2.7% a year ago and 3.1% in the last quarter.