Bank Danamon Announces First Quarter 2019 Results
date_range 23 April 2019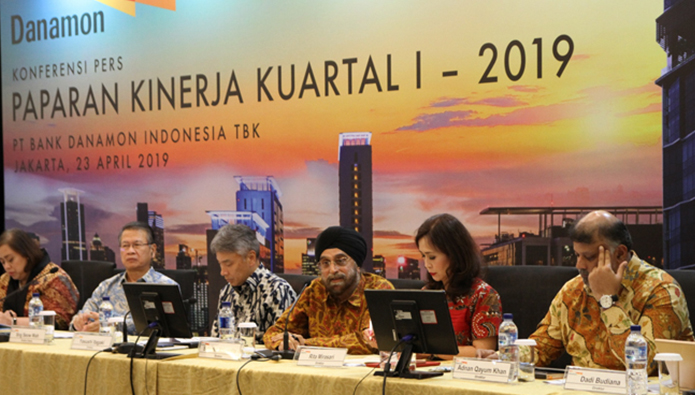 Jakarta, 23 April 2019. PT Bank Danamon Indonesia Tbk ("Bank Danamon" or the "Bank") today announced its first quarter 2019 financial results.
The Bank's total loan and trade finance portfolio reached IDR 138 trillion in the first quarter of 2019, a 6% growth as compared to a year earlier. Loan growth was driven by strong consumer demand in key segments, which includes Consumer Mortgages and automotive financing through Adira Finance. The Bank also recorded healthy asset quality, as shown by improved non-performing loans (NPL) ratio to 2.8% as compared to 3.2% a year earlier. In the first three months of 2019, Bank Danamon booked net profit after taxes (NPAT) of IDR 933 billion.
"In terms of performance, our lending continues to grow in key segments, particularly in the Consumer Mortgages, automotive financing, Enterprise Banking and SME," said Satinder Ahluwalia, Chief Financial Officer and Director, Bank Danamon.
Lending Growth in Key Segments Consumer Mortgage loans increased 27% YoY to IDR 8.3 trillion. Enterprise Banking loan portfolio, consisting of Corporate, Commercial and Financial Institutions segments, also grew 7% to IDR 39.5 trillion. Meanwhile, SME Banking loans grew 6% from last year to IDR 31.1 trillion.
In terms of automotive financing, Adira Finance booked a 14% YoY growth to end the first quarter of 2019 at IDR52.6 trillion. This healthy growth was driven by 14% financing growth for the two-wheeler segment and 15% for the four-wheeler segment.
Excluding Micro financing, the Bank's overall Loan and Trade Finance portfolio grew by 10% to IDR 136.4 trillion as compared to the previous year.
Healthy Capital and Liquidity Bank Danamon's capital adequacy ratio (CAR) remained one of the best among peer banks. Consolidated and Bank-only CAR stood at 22.0% and 22.8%, respectively.
Current Accounts and Savings Accounts (CASA) increased by 2% to IDR 50.9 trillion, while Time Deposits increased by 11% to IDR 59.5 trillion. The Bank's Macro-prudential Intermediation Ratio (RIM) of 96.4% indicated adequate liquidity to support growth.
Improvement in Asset Quality Bank Danamon continued to improve its asset quality through prudent enforcement of risk assessment procedures, disciplined collection and recovery of debts. NPL ratio stood at 2.8% versus 3.2% in the first quarter of last year. Cost of credit ratio stood at 2.4%, an improvement compared to 2.5% a year ago.
Digital Initiatives Bank Danamon continues its focus in strengthening the digital banking services. In the first three months of this year, we have officially launched D-Bank Registration application to complement D-Bank, a comprehensive digital banking solution from Bank Danamon.
"With D-Bank Registration mobile application, prospective customers can open an account within the application through a video call verification process, which is entirely online and integrated. This feature allows them to open an account anywhere and at any time," adde