Bank Danamon Enters into a Conditional Agreement to Sell a Majority Stake in Adira Insurance to Zurich
date_range 27 September 2018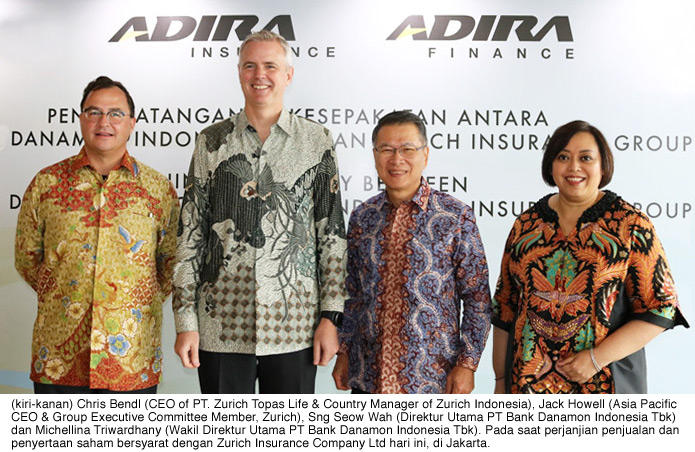 Jakarta, 27 September 2018 – PT Bank Danamon Indonesia Tbk ("Bank Danamon") announced today that it has entered into a Conditional Sales and Subscription Agreement (CSSA) with Zurich Insurance Company Ltd ("Zurich"), for the sale of 70% share ownership in PT Asuransi Adira Dinamika ("Adira Insurance"), its general insurance subsidiary. The consideration is approximately IDR 3.9 trillion.
Under the terms of the transaction, Zurich will acquire a total of 80% stake in Adira Insurance from Bank Danamon (70%) and a minority shareholder (10%).
Concurrently, Adira Insurance has entered into strategic partnership agreements with Bank Danamon and its subsidiary PT Adira Dinamika Multi Finance Tbk ("Adira Finance"), together as "Danamon Group".
Zurich is one of the world's leading insurance group and its investment in Adira Insurance will allow Adira Insurance to tap on the financial strength, product and underwriting expertise, and digital capabilities to facilitate its growth.
The strategic partnership with Zurich will provide Danamon Group's customers with access to a wide range of best-in-class general insurance products from a globally renowned institution.
Commenting on the transaction and partnership, Bank Danamon's President Director Sng Seow Wah said, "Adira Insurance has been a valuable part of Danamon group. It is important to recognize the efforts of existing and previous management for growing the business to become the sixth largest general insurance company in Indonesia. As part of the Zurich group, we are confident that they will continue to grow and serve customers more comprehensively."
The transaction is subject to customary closing conditions, including, amongst others, the approval of the Financial Services Authority (Otoritas Jasa Keuangan).
Shareholders are advised to exercise caution when trading their shares in Bank Danamon.
Barclays acted as the exclusive financial adviser and Hiswara, Bunjamin & Tandjung acted as legtal adviser to Bank Danamon.
For further information, please contact:
Atria Rai
Head of Corporate Communications
Email : [email protected]